By Ayeotan Shola
Nigerian President, Muhammadu Buhari and US President arrived in Germany today for the G7 Summit and were hosted to a traditional Bavarian welcome.
 A host of other world leaders including British PM, David Cameron and The Hungarian Prime Minister have also arrived the country ahead of the seating tomorrow.
President Buhari left Nigeria this afternoon with an entourage including Lagos Past Governor, Raji Fashola And Kashim Shettima
Barack Obama swigged beer and snacked on German sausage alongside Germany's Boss Lady, Angela Merkel as he arrived in Bavaria.
The US President was greeted by an oompah band playing long wooden alphorns, while residents of the village of Krün wore traditional lederhosen as they filled the town square.
The President and Ms Merkel are meeting David Cameron as well as the leaders of France, Italy, Canada and Japan at Schloss Elmau, nestled in the Alps.
They are set to discuss climate change, Russia's aggression in Ukraine, the rise of ISIS and British plans to prevent the repeat of a pandemic outbreak similar to the Ebola virus.
The area has been flooded by hundreds of anti-capitalist protesters, as well as 22,000 police brought from all around Germany to prevent them disrupting the meeting.
Mr Obama said: 'This morning as we celebrate one of the strongest alliances the world has ever known, my message to the German people is simple: We are grateful for your friendship, for your leadership. We stand together as inseparable allies in Europe and around the world.'
See photos of their arrivals below.
Cheers! Barack Obama raises a glass of wheat beer after he arrived in the village of Krün in Germany
Traditional: Young women wearing dirndls served the US President ahead of the G7 summit held nearby
Snacks: Mr Obama ate pretzels and weisswurst, a form of sausage, at the event in a Bavarian village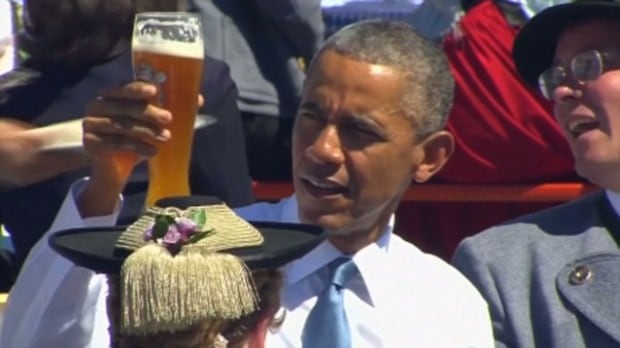 Obama enjoys a traditional Bavarian welcome
Reception: Musicians who were playing alphorns watch as Mr Obama gives a speech in the town
Leader: Germany's Chancellor Angela Merkel and her husband Joachim Sauer, right, was greeted with a bunch of flowers by local children
Close: Mr Obama and Ms Merkel are hoping to rebuild the relationship between the US and Germany
Joke: Mr Obama commented that he hoped to buy a pair of lederhosen during his stay in Bavaria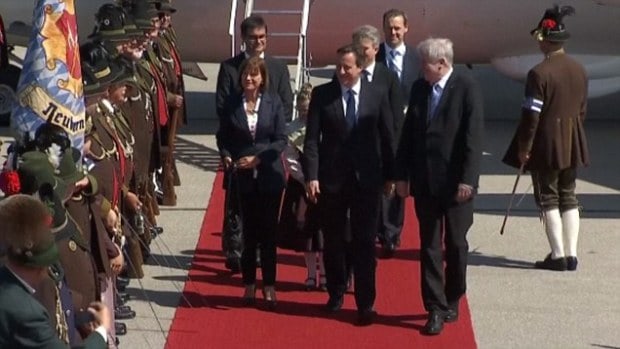 David Cameron touches down in Munich ahead of G7 summit
Line-up: Those meeting are (left to right) European Council President Donald Tusk, Japan's Prime Minister Shinzo Abe, Canadian Prime Minister Stephen Harper, US President Barack Obama, Germany's Chancellor Angela Merkel, French President Francois Hollande, UK Prime Minister David Cameron, Italy's Prime Minister Matteo Renzi and the European Commission President Jean-Claude Juncker
Setting: The leaders are meeting a Schloss Elmau, a converted castle which is now a hotel
Chat: Mr Cameron, Mr Hollande and Ms Merkel talks in the grounds of Schloss Elmau
Inside the room: The nine leaders sat around a circular table to kick off their talks
Welcome party: The British Prime Minister talks to children in traditional dress at Munich airport