By DOYIN YUSUF
Plea by corrupt police officers for bribes and yams lead to a tragedy accident at the Sango/Lagos Toll gate on Tuesday.
According to eyewitnesses account the accident occurred around 11:30 pm last night, narrated how the fatal account (which involved a Dangote truck, a white bus carrying Yam and 10 vehicles) occured.
  "There was no traffic, i was about packing up when the two policemen on duty flagged down a white bus. They asked the driver to park and they went to check what he was carrying. The woman beside the driver now explained to them that they were carrying tubers of yam for her daughter's wedding holding this Thursday. Truly, when the officers checked the boot, they saw the many yams and asked the driver to give them something but the man was saying he didn't have anything to give. All this while, traffic was already piling up because the white bus was at the centre of the road and the other side of the road was bad. While arguing, a Dangote truck was speeding forth, the driver was horning because the brake of the truck had failed. By the time I could say jack, the truck had crushed the cars that were lined up behind the bus including the bus…i left my goods and ran away"
Confirming the account, another trader whose wooden shop was destroyed in the tragic incident said "The accident was terrible indeed. I am still in shock cos i could have died too. The policemen ran away, they have not showed up today. The woman and the driver were badly injured, we brought out about 18 bodies from the destroyed vehicles on the road and in the ditch this morning. Nothing happened to the Dangote truck driver" She said.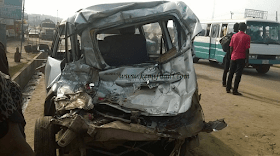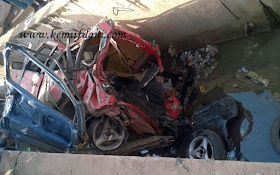 Source:kemi filani Blog
Loading…