By Ayeotan Shola
On one of of the biggest days and most sacred days in Islamic theology, a carnage/stampede of the worst proportions rocked the Islamic world, leaving many dead in its wake.
The dead people's counts has far exceeded 700 with 3 Nigerians on the tragic list.
The Nigerian hajj commission has reported that three Nigerians died in the stampede.
Among them are: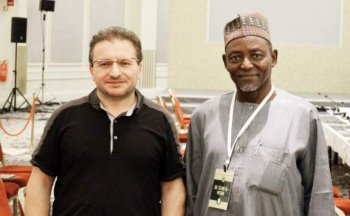 *Most notable among the victims are Tijani El-Miskin (above), a professor of Islamic Studies at the University of Maiduguri and a former head of special training course for the students of Arabic studies at the University of Maiduguri in Gamboru.
*He was recently interviewed for the vacant post of the Vice Chancellor of University of Maiduguri.
* He has written several books in his discipline including; "Research guidelines for the project on history and development of Qur'anic education in Borno", "The Kayawar in the context of the epic tradition" and many others.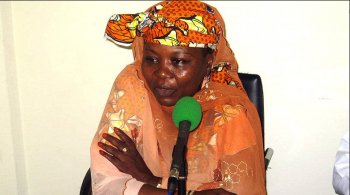 Another victim is Hajiya Bilkisu Yusuf (above), who was the first female editor from the northern part of Nigeria.
*She studied political science in Nigeria and the USA and journalism in Russia.
*After that Bilkisu Yusuf pursued successful career in journalism in Nigeria, working for Daily Trust and Leadership newspapers and several local editions in Kano and Kaduna states.
*Bilkisu Yusuf is a journalist by profession and a political scientist by training.
*She received a BS in political science from Ahmadu Bello University Zaria and a MA in Political Science from the University of Wisconsin.
*She studied journalism at the Moscow Institute for Journalism and International Relations and earned an Advanced Diploma in journalism and international relations.
*Her previous work experience includes working in the Ministry of Information, Kano, editor of Sunday Triumph Kano, editor ofNew Nigerian Kaduna, and editor of Citizen Magazine Kaduna
*Bilkisu was a columnist for Daily Trust and Leadershipnewspapers. She is a founding member of several NGOs, including Women In Nigeria (WIN), the Federation of Muslim Women's Associations in Nigeria (FOMWAN), and AdvocacyNigeria, where she is the executive director.
*She is a consultant and trainer in media, gender, and conflict management and peace building. She is on the board of FOMWAN, the Nigerian Interfaith Action Association Against Malaria (NIFAAM), Health Reform Foundation of Nigeria, (HERFON), ABANTU for Development, Vision Trust Foundation, and many others.
See pictures of them we could find so far…..